A proud father
I never really liked kids. They scared me a little if I have to be completely honest. These little beings full of energy that really can't express themselves other than crying, I thought I would find it difficult to handle. Then, things changed a lot over the course of a few months.
If you didn't know, 8 months ago I became a father. She's an amazing little girl. She's the cutest thing alive, is always happy, barely cries (except at night of course - who needs sleep!), curious about everything and she's growing up so fast. It's impressive seeing her grow and do new things everyday. She makes me proud.
This brings me to last weekend. I was booked by an awesome young lady, Rachel, to take photos of her boyfriend who is participating in this year's Mont-Tremblant's 2019 IronMan. The Ironman competition is kind of insane; the event consists of 3.8 km/ 2.4 mile of swimming, 180 km / 112 miles of biking and to finish, a 42.2 km /26.2 miles of running. It's gnarly. It's tough. People die from the exertion of this event. If you finish it, "You are an IronMan!" as the announcer would say.
I show up quite early to grab some photos of the starting line. It's a warm but cloudy day. The air is humid. There is a literal sea of people. You can feel the energy in the air, it's amazing. All these athletes have been prepping for so long to get there, families are on the shore watching over them with a nervous excitement.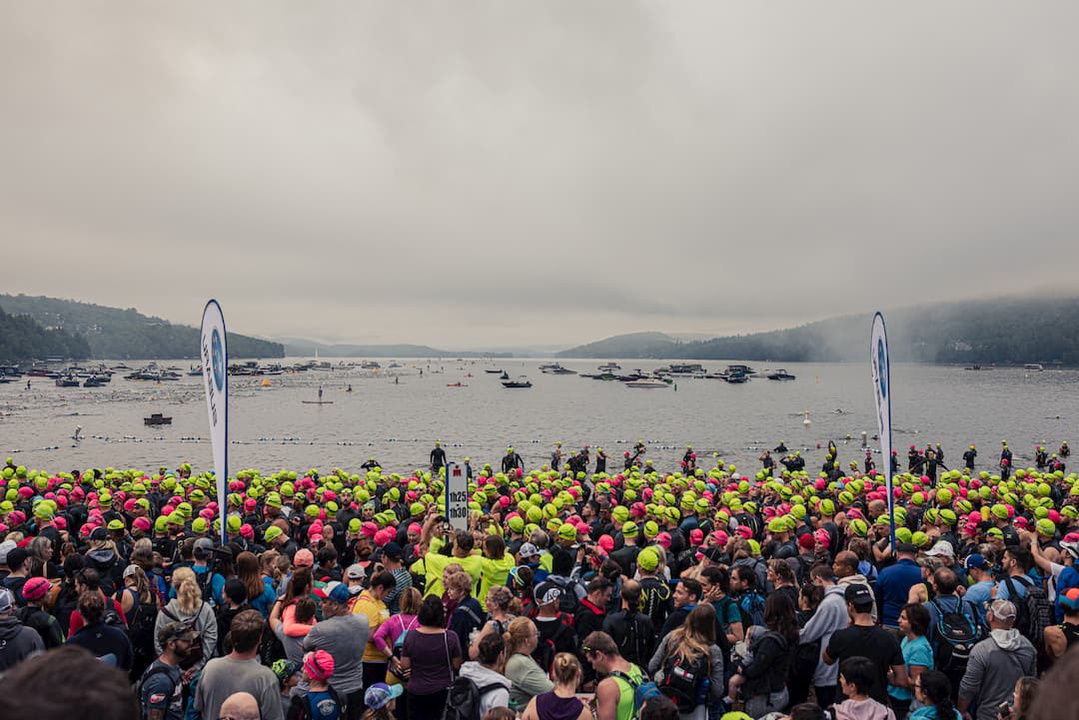 The pro's start first, then the rest follows. After the swim start, I head over to the first 'leg' of the event, the arrival from the 3.8km swim. The client, Rachel, sent me photos of Joe prior to the event so that I could know what he looked like. People are screaming words of encouragement and praise at the participants. After seeing a bunch of participants, I finally see Joe Greeman running towards the bikes.
This is off to a good start! I was scared I could not identify him correctly but luck and tons of patience was on my side. The next leg is the bike race. I coordinate with Rachel to follow them along key points of the race. This is where I meet Joe's father, Mr. Greenman, and his mother who came directly from the UK to see their son participate in his first Ironman. Mr. Greenman is clearly dialed in, noting his son's times and progress on a small piece of paper. We finally get to see him on his first lap of the bike leg, he looks happy and in control. Mom and Dad looked a little relieved from seeing this.

Rachel, her sister, and Joe's parents and I took some more angles of Joe during his bike leg. He looked focus and in the zone. Dad is clearly happy, leading the group to where we could catch Joe exactly at the right spots and explaining what would happen next. He was so right!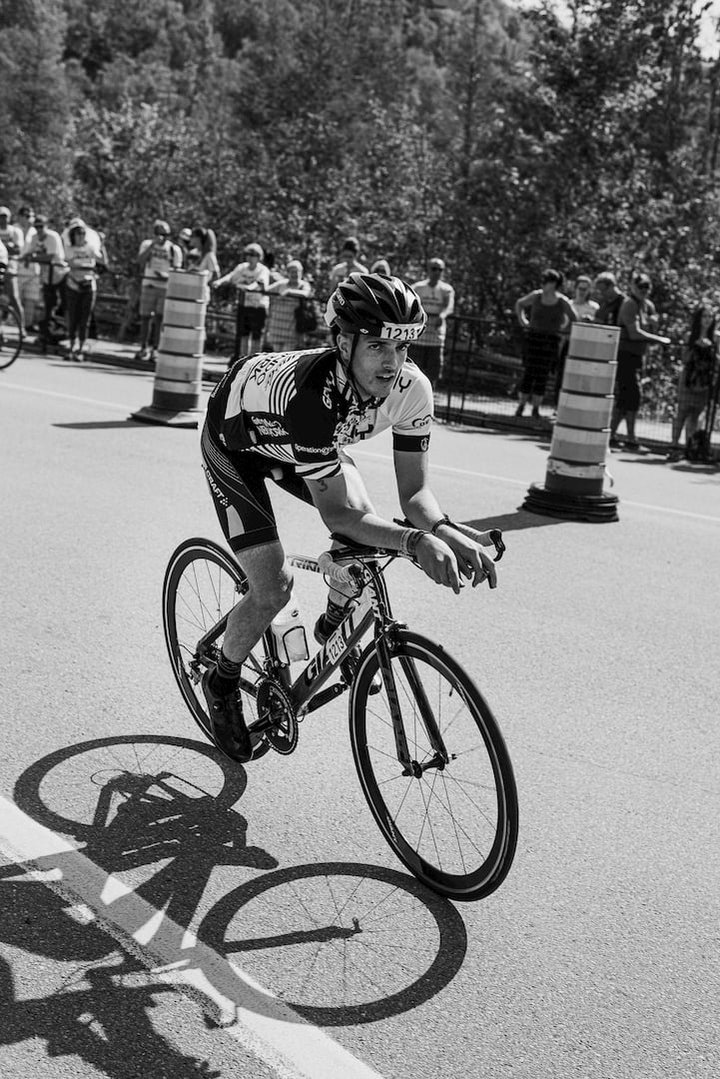 While we were walking to the best spot, Rachel was explaining to me that her boyfriend Joe was racing for a foundation called camp Ooch, a camp dedicated to children with cancer. Camp Ooch mission is to provide a camp experience with a complete IV chemotherapy and blood transfusions so that kids can enjoy social activities while getting healed - the only camp in Canada offering such an experience.

While Joe converts to the running portion, I sneak up in the streets to grab some last shots of him before he hopefully finishes this tough race.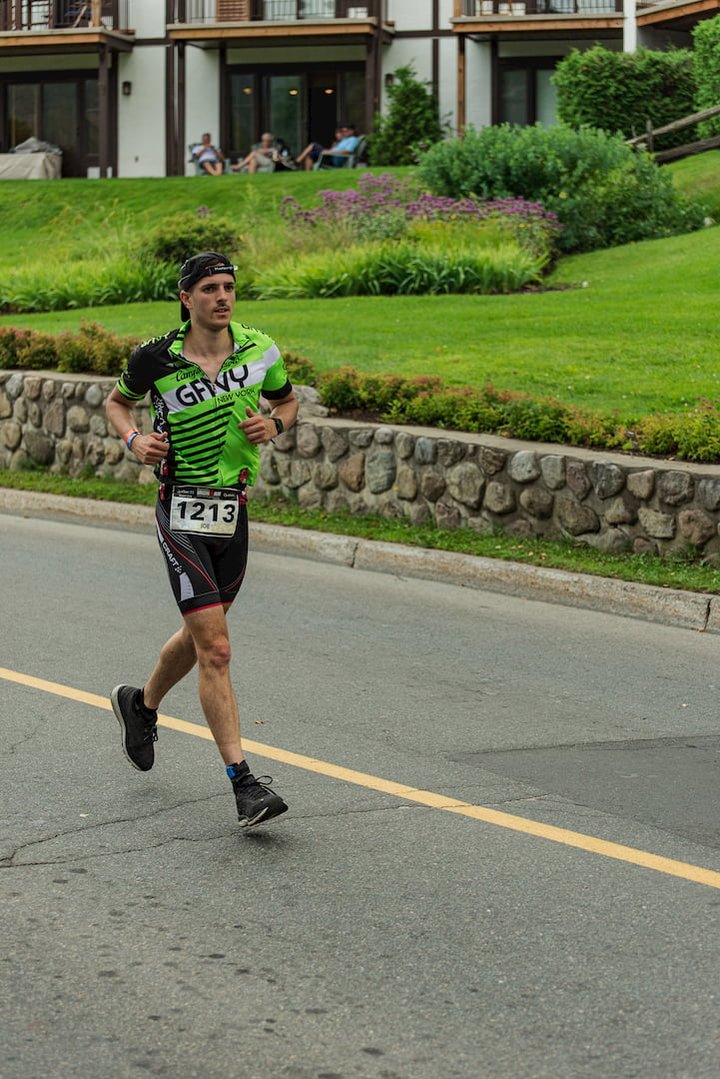 A few hours pass, and Joe is now racing to the finish line. Joe is doing well, keeping a high pace and increasing towards the end. He finishes the race looking sharp and healthy. A true champion finish. He reunites with his family.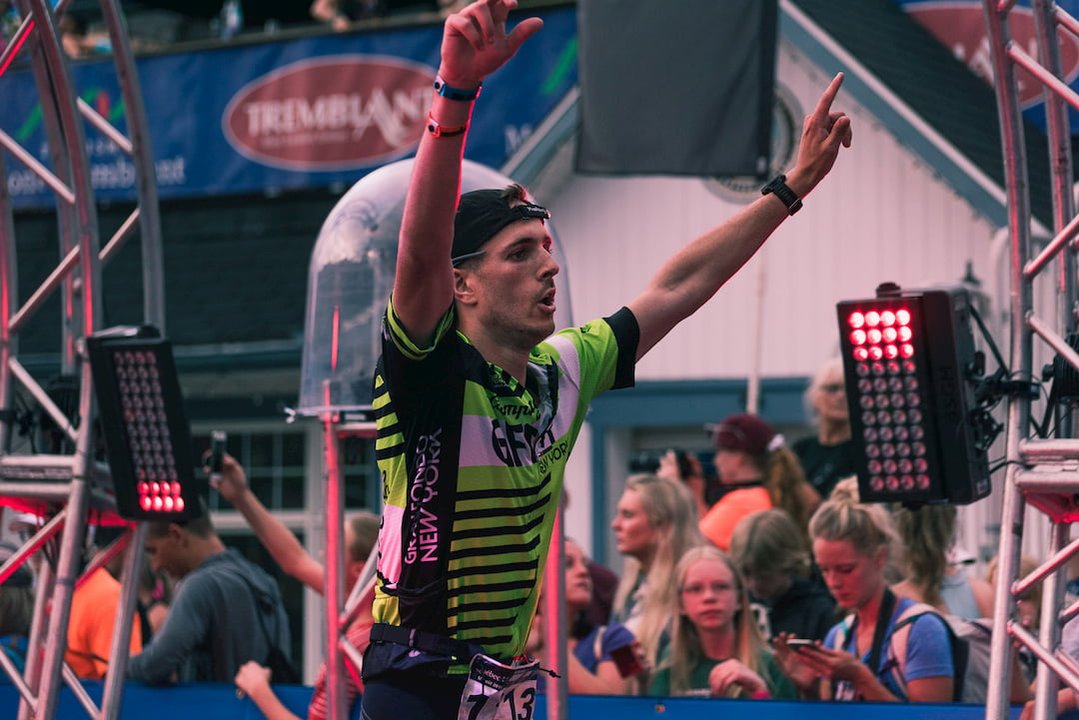 A little exhausted, we found Joe on the floor sipping on some what I presume, delicious carbs, in the form of a can of Coca-Cola.
Then, I turn on street photography mode and start capturing reactions and emotions. The entire family is ecstatic. Joe finished the race in 12 hours and 31 seconds, an incredible time for a first time Ironman participant (which apparently he did with less than 6 months of training). The emotions are palpable. Rachel is over the moon and the rest of the family also.
But one thing caught my attention. Mr.Greenman typically vocal at times, wasn't saying much. He was unusually silent. I then raised my camera to capture some moments.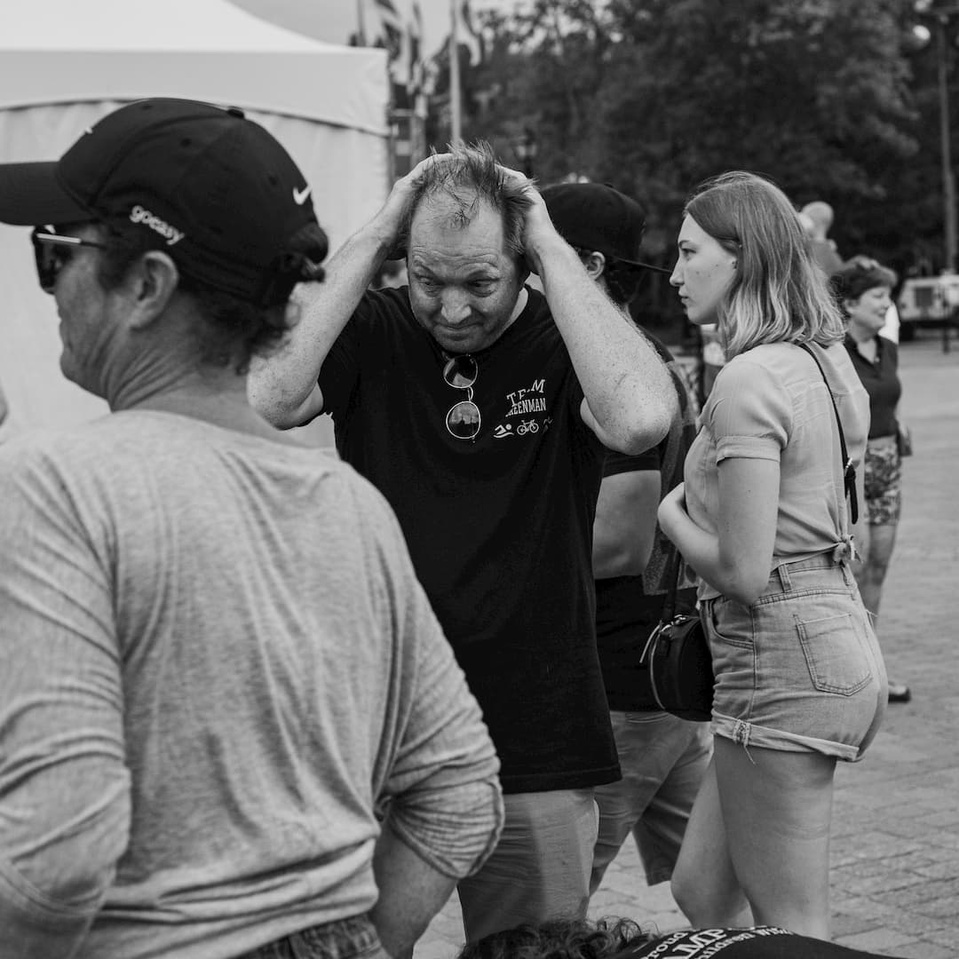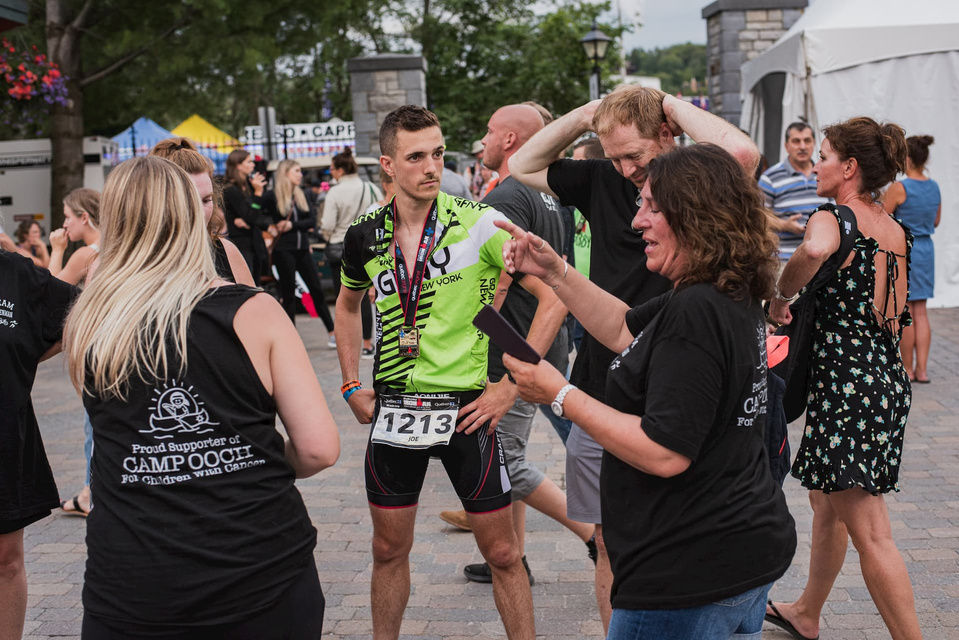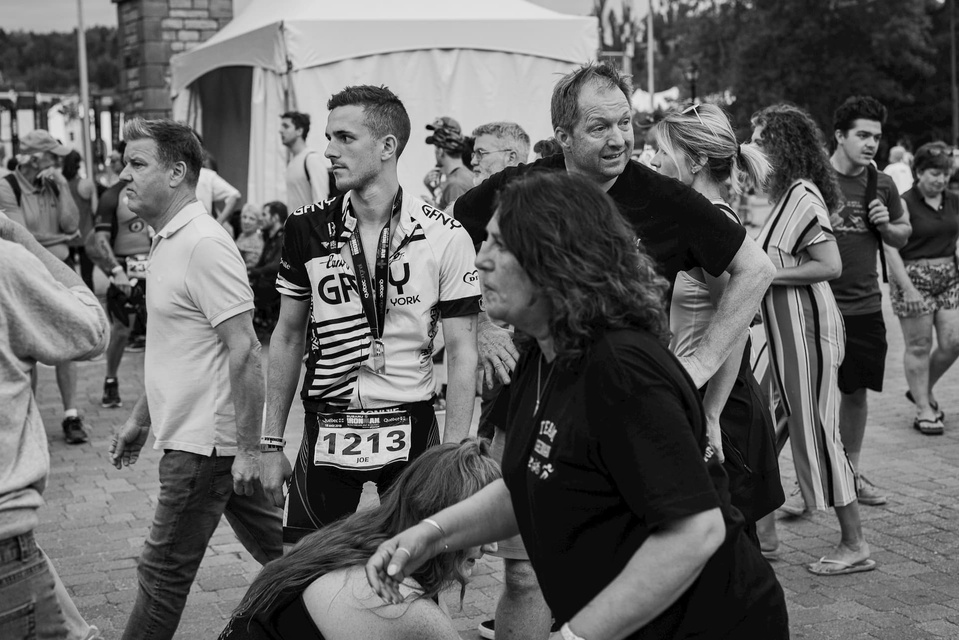 He was emotional but so proud. It was at this moment that I understood what fatherhood was. It's a responsibility. Ownership of training your kids to run the race by themselves. Helping them push their boundaries. Be the shoulders they can always land on. Be the person that works from 9AM to midnight everyday and smile whenever you see them. Be the person who doesn't complain. But it's also enjoying seeing them accomplish things that very few in the world can claim the same.
Because you've done something good in this world by raising such a person. You've raised someone who puts his body in harm's way so that sick children can experience the good in life while still getting treated. That is pride I wish all fathers can experience. That is all I wish for, to experience pride in my daughters achievements.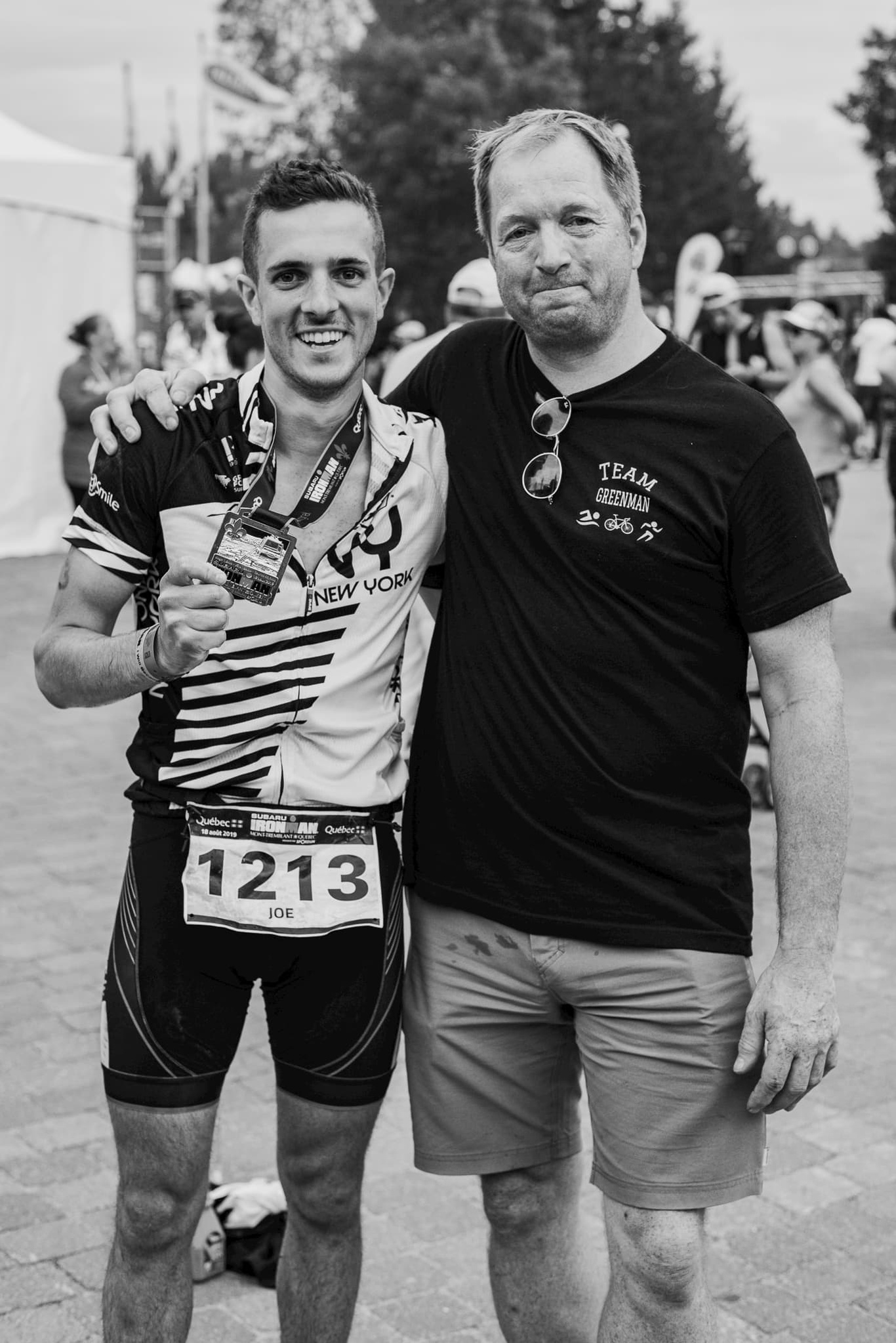 These are only a few words but I hope they express how I felt when capturing those portraits. I want to thank Rachel for letting me in part of the experience and hope Joe will keep on crushing those miles, and dad will remain as proud as he was on his son's first Ironman.
Have a great week,
Yvens
P.S.: If your finances allow you - please donate to camp Ooch!